Games
8 Thrilling Detective & Mystery Games For Kids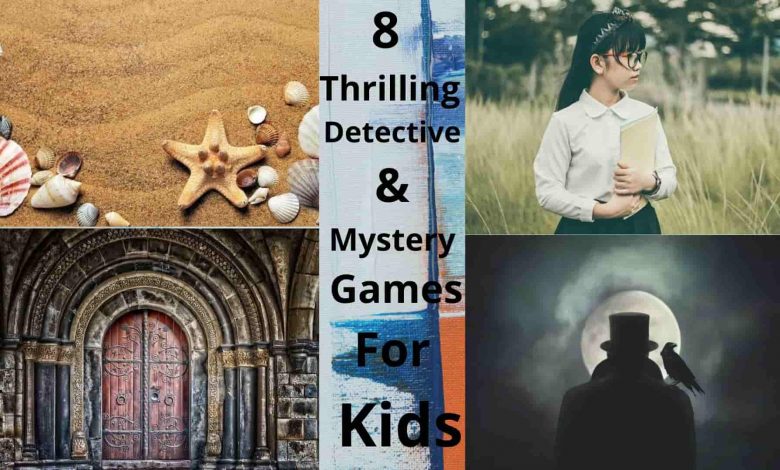 Thrilling Detective and Mystery Games – Does your kid enjoy an occasional thrill and suspense? Are they fans of the stories of Nancy Drew or maybe Sherlock Holmes?  
Kids who love mysteries or detective fiction have some of the most vivid imaginations. And what better way to nurture that mindset than immersing them in some occasional detective-themed virtual escape room sessions? 
If you are running out of interesting and unique thrilling detective and mystery games for your kids, then here are some that you must check out:  
1. Sherlock Calls  :
Sherlock Calls is an exciting detective-themed virtual escape room game that you can have your kids enjoy playing. In this game, players will be playing the role of a detective. While playing the game, players have to tactfully guide their on-field agent through the mystery-themed game and carefully investigate a crime scene. 
As you search every element of the murder scene, make sure you leave no stone unturned. Do you think you can unravel the murder mystery in time and win the escape room?  
2. DIY Detective Game :
Allow your kids to get a little creative as they play an Thrilling Detective &  Mystery Games right at home! DIY Detective game is very simple to play. All your kids need to do is find something that they can hide inside the house. More than one child is required to play the game. 
While one child will go ahead and hide the chosen item, the other(s) need to search for the hidden object. The child who hid the object needs to provide the other kids with clues to help them find it.   
3. The Secret Door :
The Secret Door is a well-known award-winning mystery-themed game for you to check out. The game is suitable for children above the age of 5 and can be the perfect way for you to spend some quality time with your family. 
This game is best enjoyed with 2 to 5 players. The game begins with valuable objects being stolen from the mansion and players being assigned to find them out. You and your team need to search the rooms in the mansion, find clues and solve them to win the game. But, can you solve the challenge before midnight?   
4. Beach Detective: 
Suppose you are visiting any seaside place with your family during your upcoming holidays, then this is the best detective game that you can play! Head to the beach with your kid, where you are sure to find several kinds of footprints on the sand.  
Ask your kid to follow a particular set of footprints and see where they lead them to. You can even use the kind of objects that you find lying around the footprints and try to decipher where the person or animal was headed to!   
5. Family Treasure Hunt Game :
For kids who love scavenger hunts or treasure hunts, this is the best kind of game to try out! The Family Treasure Hunt Game offers players the perfect thrill of playing a detective-themed game.  
In the game, you will get riddles that will act as clues to help you solve the challenge. The riddles are either made up of pictures or words, depending mostly on the age of your child. Bring home this amazing treasure hunt game that is bound to keep your child engaged and intrigued for a long time!  
6. Betrayal at House on the Hill:
Betrayal at House on the Hill is yet another exciting detective-themed board game, which is, however, suitable for kids who are 12 years old or above. Playing this game at family gatherings or parties can be the perfect way to spend time. The game is best enjoyed when played with approximately 3 to 6 players. 
In this tile game, you need to make your way to the spooky house and search every room there. Each of your team players will enact the role of one of the six possible characters. With one of your team members betraying the rest, do you think you can solve the mystery and find out the traitor in time?  
7. Unsolved Case Files: 
Unsolved Case Files is a fun mystery game that your kid will surely enjoy playing. In this game, you can even play together as a family to find out who has stolen Honey the bunny.  
While playing the game, you will be stepping into the shoes of a sixth-grade student who has been asked to solve this mystery by the school principal. Are you ready to use your detective skills and find out Honey the bunny, and the culprit?  
8. Outfoxed!   
For children who are five years old or above, Outfoxed is an interesting detective game to check out. You can play this game with approximately 2 to 4 players. The game lasts for approximately 20 to 30 minutes and is thus great for kids who cannot focus on one thing for long.  
The objective is to catch the fox before he escapes with Mrs. Plumpert's award-winning pot pie. Work together as a family with your kid, eliminate your suspects one by one and catch the thief before he escapes! 
Conclusion :
So, these are the 8 thrilling detectives and mystery-themed games for your kid to play and enjoy. Try out these games in the coming weekend and spend some quality time with your kid! 
Visit for more articles