Business
5 Benefits of Wire Shelving for Hospital Storage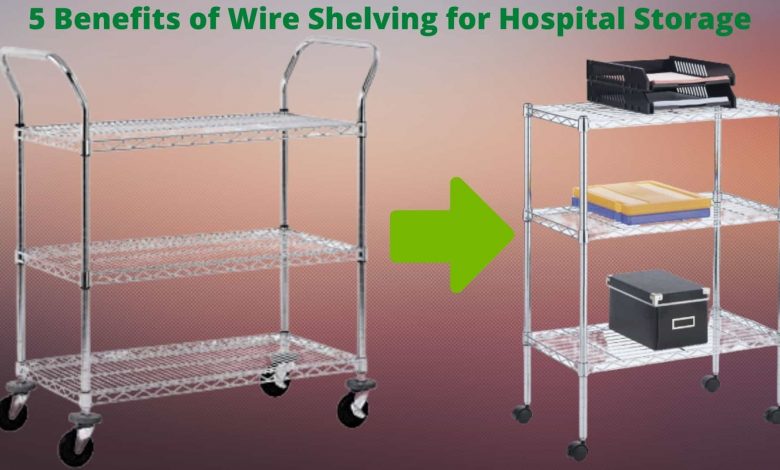 Hospital storage comes in several forms, each with its own set of operational requirements. Organization and cleanliness are essential when there is a need to store a lot of things.
Wire Shelving Cart, a straightforward, adaptable, stylish, hygienic, and multipurpose storage system is the perfect storage option for hospitals.
In the setting of a medical facility, wire shelving might offer multipurpose storage. In this article, the benefits of wire shelving for hospital storage are thoroughly covered. This information enables healthcare professionals to select the best system for their staff.
5 Benefits of wire shelving for Hospital Storage:
The main advantages of a shelving cart in medical facilities are as follows:
1. Features A Cold Storage
Comparatively speaking to many other types of storage solutions, the Wire Shelving Cart typically has greater ventilation. Air can move via the vents and around to all the various levels thanks to the mesh utilized in the wire shelves. This indicates that every storage container, as well as every bin, will receive this ventilated air.
Remember though, moisture can amass next to the wire shelf. By using cool, ventilated air, this can be avoided. Regarding wire shelving and storage, air circulation also has other advantages. The airflow can assist in preventing the accumulation of dirt and dust. Sterilization becomes extremely crucial in hospital settings.
For this reason, it's also critical to take all reasonable precautions to avoid the accumulation of dirt and dust. Wire shelving not only makes it easier to store the things you need in a medical environment but also improves the air quality.
2. Clear Presentation
The storage room's aesthetic requirements are frequently sacrificed in favor of greater storage effectiveness. Hospital settings, where the aesthetics of storage rooms aren't so significant, are an example of where this is even more true.
Regardless of whether you care about the aesthetics of your storage space, you should always consider how clean it is. Simply keeping an eye on your storage space is all that's required occasionally. Additionally, keep in mind that the  shelving's ventilation helps to keep the shelves clean and clear of dust and debris.
People appreciate that medical equipment is maintained in clean, hygienic environments, particularly when it comes to hospital settings. In the storage room, medical workers may quickly find anything they're looking for. Medical workers may quickly find anything they're looking for in the storage room.
When storing medical supplies on a  Shelving Cart, you can also benefit from improved visibility. All medical supplies can be safely and effectively stored with the use of wire shelving, which is frequently utilized in hospital settings.
3. Multiple Configuration Possibilities
Basic building techniques are employed to create wire shelves. Steel beams are frequently used to build shelves. Steel beams are frequently used in the construction of shelves. Sturdy horizontal shelves are made using this in conjunction with progressive positional marks. The shelves are then strengthened with the use of an especially sturdy mesh pattern. Support wires are also employed during construction to help the operation.
Wire Shelving Cart can be custom-built to meet your needs because the construction procedure is straightforward. For your storage, you might request shelving in a certain size if you'd like. Your medical office, storage rooms, main room, and other locations can all have their wire shelves. This indicates that there are numerous ways to build wire shelving and numerous uses for it.
To increase mobility, you might even consider adding wheels or even castors to the shelves. A shelving cart can be utilized in a variety of ways, even in a hospital environment.
4. Storage Bin
It is feasible to purchase shelf systems that are sold as storage bin-sized components. Gauze pads, elastics, and bandages are perfect items to store in wire shelving containers. Additionally, you can keep medical tape, scrubs, instruments for surgery, masks, and more.
You may also exercise batch selecting using wire shelving bins. Your shelving bin can be used to restock your storage as well as to carry things. The organization is crucial in the medical field, as we've already discussed. You can keep organized at work with  shelving, which also makes sure that everything is stored appropriately. Medical equipment can be transported as well as stored using wire shelving boxes.
5. Exceptional Capacity and Customizability
On average, a wired shelving cart can hold a lot of items. It's common to locate wire shelving that can hold 700 pounds or more. The design of the wire shelf will determine how much it can hold. When calculating a storage system's capacity, its width and depth are also crucial.
Additionally, wire shelving is available in models with a lot of storage space but choosing wire shelving has several advantages, like being more adaptable. Shelves come in a variety of widths, from 610mm to 1825mm. When it comes to storage in a lab or a healthcare facility, these figures can be optimal.
Would you like to store tall or large pieces of equipment on wire shelving? Both the sizes and shapes of the steel wire shelves are varied. Additionally, you can choose the specific height of each shelf, giving you versatility. Aside from that, wire shelving systems are also quite versatile. Also, they are adaptable and can be utilized for a variety of applications.
Conclusion:
I hope you learned everything you needed to know about why a wire shelving cart is perfect for your hospital in this article. Hospital storage, where organization and cleanliness are priorities, is the perfect setting for wire shelving units. These were the five key advantages of employing wire shelving in hospitals, from customization to promoting hygiene.
Visit for more articles